So today was a day with no class, but I believe the professors still showed up (maybe so they could gossip about us and drink until stupid without students running around, I'm just saying!)
So I got more done before 11 am today then I do on a normal day, but I am pretty sure that will never happen again...I outlined, read, and briefed for a good portion of the rest of the next week:)
Also, with my time I finished a book (reading not writing, thats still on the backburner, churning away in my convoluted mind)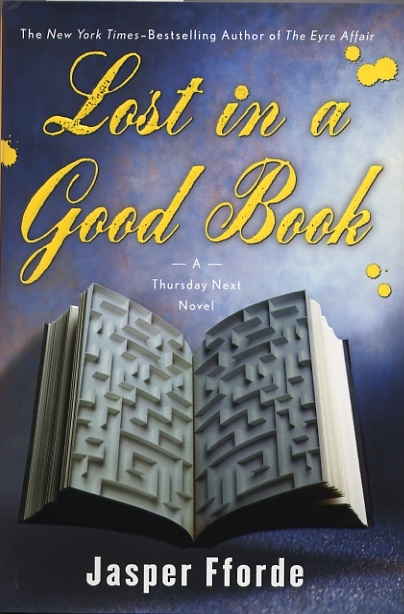 It is part of a series (this is #2), but if you are in the market for a solid, yet easy, read, you should definatly check these out! Based in a linear time to ours (think sideways jump through time, not backwards or forwards), this series could compensate for more than one read at a time, as the heroine, Thursday Next, is a literary Specs operative charged with protecting all those classics you love and will from time to time interact with those characters that made the great books great by "jumping" into these stories to save the world, herself, and most importantly the integrity of the plot! And, because Jasper Fforde is one of my new favorite people, I will plug his other series about Jack Spratt and his Nursery Crime Adventures (if you look carefully in "Lost in a Good Book" you will see references), which you should not dismiss because you think they are about Nursery Rhymes, they are more on the level of the Gregory Maguire's takes on fairy tales like "Wicked" and "The Ugly Stepsister" (but without the sexual undertones), and like Wicked, this is no bedtime story for a 7 year old!
In other slightly funny, slightly serious news,
this article
brings up an issue I had never thought of. As our cars get quieter, which is where we are moving with the stealthy Prius and all, how will those of us who can't see the cars know they are there?